Lately I've been distracted. I feel like time for me to get certain things done is running out... So in the next few days I have set myself goals, things to get done prior to June 1st. I have two nook bags 90% complete, finishing them both shouldn't take more then a couple hours but I procrastinate doing it anyway. And I have a letter to write to my Grandma, I've been wanting to write it for weeks.
Speaking of June, next week is my birthday. I was so distracted with thinking of everybody else that I forgot about it; my father in laws birthday get together is this Sunday. The Man's birthday is the end of next month. The Kiddo has two doctor appointments in June (eye and teeth)... and the list goes on. I still can't believe I forgot though, how did I get to a place where I stopped thinking about myself so completely?
On a completely random tangent. We still have not found a dog that would be even close to good for the Kiddo. We knew it would take awhile though, and the Kiddo is amazingly understanding about how long things are taking. I've never met a five year old with more patience then he has. I saw a new listing for a
Tibetan Spaniel on the Humane Societies web page
. She's 4. She might be a little small for the kiddo but he says she is cute and she is the right age. I couldn't get the picture to link here (click the link above to go to the listing) so I went to the dog breed info web page and copied that picture for you* They are cute dogs, and it seems like one would be good for our living situation.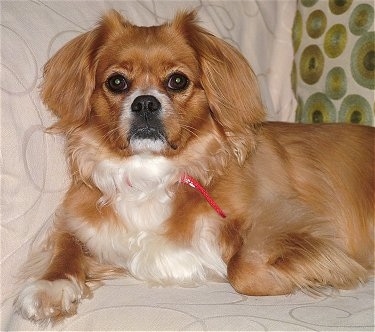 *click the picture to go to the page and read about the breed